Car Rentals: Driving in East Africa

Car Rental: Get guided information on how to pick up a car, How to return a car, when to by COMES Border crossing License, Driving Rules & Regulations.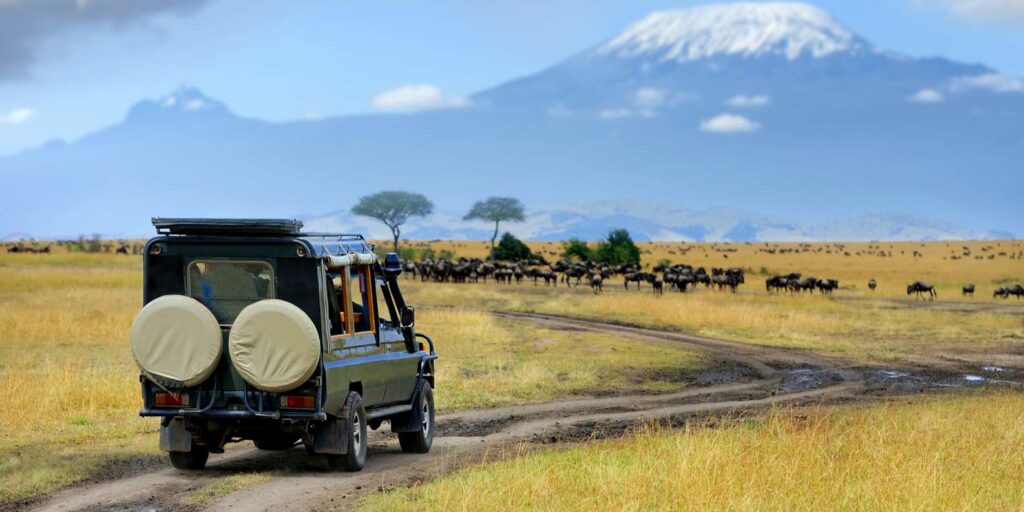 Since 4x4rentalsuganda is equipped with good jeeps, our cars can go to other East African countries on long rental. You can rent a car starting from Uganda and visit Kenya, Tanzania or Rwanda.
You can drop the car in one of the country you will travel to. We also have fleet in those countries therefore in case you need to travel to Kenya only, you are covered.
In case of any problem with the car, we also have mechanics in other East African countries and we are very reliable people.  We are of assistance 24/7 and the cars for crossing borders are also on unlimited mileage.
There is need to follow road rules in whatever country you will be traveling because there are different penalties in each country for those not a biding by the rules of the road.
Our cars reach standards of East African Countries and have good tyres to travel in those national parks of your choice.
With East African countries, you can also go with a driver or on self-drive both options are possible. If you are renting a car with us and plan to cross the border, you need to let us know in the inquiry as we have to give you the necessary paper work for the car to cross and the COMESA information.
In every country, you will enjoy different attractions and culture for instance, in Kenya there are national parks, culture, leisure parks, the coast and not forgetting the beast migration.
CAR DELIVERY
At 4x4rentals Uganda, we deliver cars where you prefer. Most of the clients want the car to be delivered at the airport, and Hotels, this is very possible with us and we have drivers who can do that work.
On car Delivery at the airport, the driver will have a pla card including the client's names. He will stand at arrivals and raise the pla card for the clients to read the name.
After getting the clients, they will both go where the car is parked. The driver will explain the car how it works, check the water levels, radiator, checking oil, where the insurance sticker is etc. The driver or company representative will go ahead and show the client where the wheel spanner, Jack are just in case of small problem with the tyre.
A client will also be given a chance to check the car and see whether it is okay according to him.
Some clients read the agreement and sigh before they come but if the client didn't sigh before coming, he will sigh the agreement and then make the payment, just in case there was no full payment prior to coming.
Other clients prefer picking the car from office, this is also possible and the procedure will be the same.
The company will put fuel enough to bring the car where the client is whether airport or Hotel and the client will leave fuel to return the car to the office.
CAR RETURN
On car delivery, we shall need the information, confirming when you will return the car, time and place. In case the client is not sure yet, then communication later is accepted.
Our driver will be there to pick the car from the client and he will check whether everything is okay with the car.
Some clients prefer to return the car to our office, the option is also possible.
If the car return is at the airport, leave some time for handing over the car to the driver, if your flight is at 2 pm; do not wait until 1pm to handover the car.
A client is supposed to leave some fuel to return the car back to the office.
We are a reputable company and have many years of experience in car hire business, so there is no need to worry about anything, just trust us with your safari you will not regret.
DRIVING TWO PEOPLE
This is possible with 4×4 rentals Uganda. What we need is both of you need to provide us with photocopy of driving licenses and passport.
If one driver gets tired, the other can drive, this will allow all of you to enjoy the journey by enabling each other to relax
Driving carefully is needed and each of you should have valid driving licenses and experience in driving.
This is possible either on long term or short term rental.
BOOKING LODGES
We can book for you lodges on car hire trip at no extra cost, you just have to let us know the kind of lodges you prefer whether luxury, midrange or budget.
Even if a client prefer to pay in advance for the lodges it is also possible. Paying on arrival is possible most especially on lodges which are not super luxury. Some lodges especially super luxury, need payment in advance.
In case you have no idea on where to sleep, we can suggest for you lodges depending on the knowledge we have on different destinations.
The option of a client booking him or herself lodges it is accepted and possible. Just let us know what will make you confortable.
BOOKING PERMITS AND OTHER ACTIVITIES
We can book for your permits or other activities on request. Attractions like gorillas and Chimpanzees need to be booked in advance and paid. In case you prefer to book for you gorilla or chimpanzee permits, do not hesitate. We are here to serve you.
We are a reliable company, though purchasing  permits needs to send money in advance, no need to worry about your money, we shall purchase the permits for you and send you a soft copy by request.
Other activities can also be booked for you in advance. This depends on where you are going and what you are going to visit. Some activities do not need to be booked in advance and others need.
Our experienced staff will give you information and let you know what is necessary.
When you prefer how much is charged for an activity or park entrances, we provide such information to our clients.