4×4 Car Rental Tanzania | Driver Guide & rooftop Tent hire
Car rental Tanzania: 4×4 rentals Uganda offers budget car hire in Tanzania with a driver guide, camping gear and Rooftop tent.
"The Land of Vast Wilderness Areas". Tanzania is among the East African countries including Uganda, Kenya and Rwanda plus South Sudan and Democratic Republic of Congo as the new member countries.  Tanzania is the third largest after DRC   and South Sudan. Tanzania has popular islands of Zanzibar, Pemba, and Mafia.
The size of Tanzania doubles the size of California; this African country is bordered by the Indian Ocean in the east, Kenya in the north, Uganda in North West.
Among the top tourist attractions in Tanzania is Mountain Kilimanjaro which is the highest in Africa in Africa and is bordered by three of the largest lakes on the continent: Lake Victoria (the world's second-largest freshwater lake) in the north, Lake Tanganyika in the west, and Lake Nyasa in the southwest.
The popular African Mammals in Tanzania which you cannot miss while on self-drive includes wildebeest, zebra, giraffe, elephant, Rhino, lion, and leopard. The listed mammals are highly endangered because of serious illegal hunting in the surrounding areas.
If you go self – drive along the shores of water bodies, you cannot miss to see at least Crocodiles and hippopotamuses among others.
Major tourist destinations to explore on self – drive or Car with driver tours include:
Tarangire National Park
Serengeti National Park
Saadani National Park
Ruaha National Park
Nyerere (Selous) National Park
Ngorongoro Crater
Mkomazi National Park
Mikumi National Park
Mahale Mountains National Park
Lake Manyara National Park
Katavi National Park
Gombe National Park
Arusha National Park
Since Tanzania has a lot to offer, it's better to hire a car with camping gear to reduce on the costs of staying in hotels and lodges.
Self-drive and camping tours in Tanzania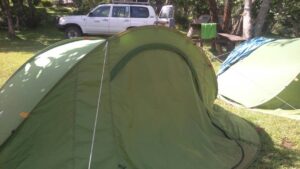 Road tripping with a full set of camping gear in the back of the car gives you a great sense of flexibility and comfort however; you need to deal with a reliable car hire company to be able to get a mechanically good car and quality camping gear.
4×4 Rentals Uganda offers a full list of Camping equipment for all their clients who rent car from us. However, if you need a car without camping gear, we can still give it out at the extra cost of US$5 per day. Check on our list
Folding foam mattress
Sleeping bag with pillows and bed sheets
Table and chairs
storage box
1 gas tank & 1 burner
Cups, plates & bowls
Coffee percolator
Pots, frying pans, cutlery set with knife, can opener, cork screw
BBQ grill
Cutting board
Dish towel, detergent, washing line & pegs
Headlights and solar table lamp
Car Rentals with a roof Top Tent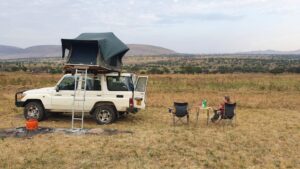 We can equip your Land cruiser with a rooftop tent and electrical fridge. Our rooftop tents fit 2 adults. If your travel group is 3 to 4 person, we can mount 2 rooftop tents on your 4×4 rentals car in Tanzania.  Or, you can hire a ground tent with either the Land cruiser or RAV4.
Taking a rooftop tent or a dome tent with your rental car both have advantages and disadvantages and there are a few factors that will determine which one will work best for YOU.
In many Tourist destinations, you will find camping sites at the costs below:
Public campsites managed by TANAPA cost $ 35.40 per person/night.
Special campsites cost $59 per person/night.
Campsites outside a national park typically costs around $5 – 15 / tent.
There are numerous campsites all over the country, so it is possible to explore Tanzania at pocket friendly costs. There are campsites situated inside the park which are managed by the government of Tanzania through TANAPA.
Other camp sites which are situated outside the park and many of them are managed by private lodge owners – the latter enabling you to stay at a secured site with good amenities whilst sleeping for a dime. Moreover, the opportunities to camp are year round because of Tanzania's warm climate.
You don't need to book your public campsites in advance. There are several public campsites in every national park and you will always be assigned a campsite when you arrive at the park entrance. It works a bit different if you want to stay inside the Ngorongoro Conservation Area and/or the Wildlife Management Association (such as Lake Natron). If you want to visit these conservation areas, you need to obtain a reservation quote first, before you can go to the gate to pay for the park entrance. On this reservation quote, you have to mention the campsite where you will be staying.
How to Hire a safari vehicle in Tanzania

Do you want to rent a car with us?  It's easy, just visit our contact page, fill in the form with your details and send it. We shall reply you in few minutes.
Tel: +256774258839/ +256751711730
Email: hire@4x4rentalsuganda.com