5 Days Uganda Gorilla Trekking & Chimpanzee Tracking Safari
5 Days Uganda Gorilla Trekking & Chimpanzee Tracking Safari gives the chance to go gorilla trekking in Bwindi Impenetrable National Park, and track chimpanzees in Kibale Forest National Park with 4×4 rentals Uganda Self drive rental car
Detailed Itinerary For 5 Days Uganda Gorilla Trekking & Chimpanzee Safari
Day 1: Entebbe Airport – Kibale national Park
You will meet our driver with a car at Entebbe International Airport – He will brief you shortly and then deliver the car to you. You will drive to Kibale National Park (Home of chimpanzees). Expect to see a lot of attractions on the way and since you will be driving at leisure- you will be able to make stopovers to witness unmissable attractions, take photos and then proceed to Kibale. You will have dinner and overnight at Primate Lodge Kibale, Chimp Nest Lodge, Chimpanzee Guest House, or Nyinabulitwa Country Resort.
Alternatively, you can sleep in your hired tents if you prefer that.
Day 2: Chimpanzee Trekking  
Chimpanzee trekking is the second popular primate activity after Gorilla Trekking. You will begin the day with breakfast, drive to the park headquarters to be briefed, and thereafter, walk in the forest to meet chimpanzees.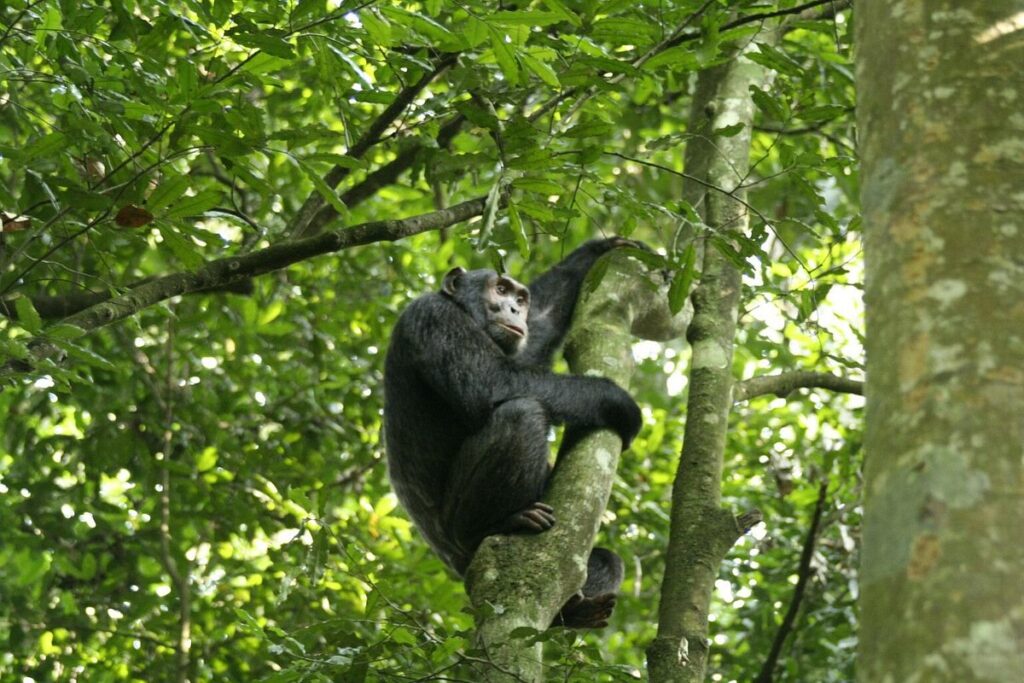 The ranger guides will be in a position to answer all your questions, protect you and guide you throughout the trek. Once you meet chimpanzees, take photos, chat and leave them after 1hrs view exercise. Return to your accommodation or tent for lunch and then relax as you wait for dinner and overnight.
Day 3: Transfer to Bwindi Impenetrable National Park (Home of Mountain Gorillas)
After breakfast, drive to the home of Mountain Gorillas – you will pass by mountain Rwenzori/ mountains of the moon. Stop on the roadside and take distant photos – proceed to Queen Elizabeth National Park (the second largest in Uganda)- enjoy the view of some animals on the way. Drive through Isasha sectors where you may encounter the tree climbing lions (If you are lucky). Take a lot of snaps on the way which is filled with amazing attractions until to repost to Bwindi Impenetrable National Park. Dinner and overnight at Mahogany Spring Lodge, Chameleon Hill Lodge, Silverback Lodge, Ruhija Gorilla Lodge, Bakiga Lodge, Buhoma Lodge, or Rushaga Gorilla Camp.
OR stay in your hired tents
Day 4: Gorilla trekking – Afternoon cultural Tour
After breakfast, drive to the briefing point – together will other trekkers, you will move into Bwindi Forest to encounter Gorillas. The time spent while looking for mountain Gorillas sometimes ranges between 3-7hrs or a full day depending on the movement of gorillas in their natural habitat. When gorillas move far, trekkers will also spend more time looking for them and the reverse is true. The happiness obtained at the view of mountain Gorillas erases the poor memories you had while looking for them.  Uganda wildlife Authority only gives trekkers one hour to see, take photos/ films, and then return to their respective accommodation.
After lunch, you will visit the Batwa pygmies to enjoy their music, local stories, read about their past, culture among others.
Day 5: Drive back to Entebbe Airport – Evening departure
After breakfast, drive to Entebbe Airport (7-8hrs drive). The first stopover will be in Mbarara town for lunch and another one at the Uganda Equator for photos and experiments. Proceed to the Airport – meet our driver to receive the car. Evening departure
End of a self-drive tour