Kenya Car Hire | 4×4 self Drive Kenya Car Rental Services
Kenya car Hire: 4×4 Rentals Uganda 4×4 self drive car rental services like rooftop tents, camping gear, pop up roof, long term hire, one way or guided car hire
4×4 Rentals Uganda also offers car rentals services in Kenya. With over 5 years' experience in business, guarantee our clients safety both on and off road when they hire a car with us. If you are looking for a trustworthy car rental company in Kenya, 4×4 Rentals Uganda is the best answer.
Do not hesitate to contact us via our contact us form. We do allow self- drive in Kenya OR car with a driver. Our clients' safety is a priority so, we employ experienced and professional driver Guides. It's all about your choice when you visit our fleet of cars from which you can select the best depending on your travel destination and budget.
Best Cars For Kenya Car Hire

Our fleet is composed of many types of cars and we recommend a car for hire depending on the nature of the roads, destination and the duration of the trip. We have both 4×4 cars for hire for Kenya rough roads and 2wd cars to be used on fair roads in towns.
Safari cars are also available for National Park exploration/ game drives. Some National Parks have bumpy roads and thus we recommend 4×4 cars only.  In rainy season, we recommend a vehicle attached with winch system that can be applied when the car is stuck in mud.
In Kenya, we recommend the following types of cars:
Note: Our cars are fully insured and regularly serviced so, feel free to contact us for whichever period of your trip; Long term and short- term period.
Car Rental Location in Kenya
Nairobi city / Airports
Kisumu
Eldoret
Nakuru
Malaba
Naivasha
Mombasa
Busia
Isibania border
Namanga Border
Places to Visit on Self – drive or by car with a driver:
How to Hire a safari vehicle in Kenya
Do you want to rent a car with us?  It's easy, just visit our contact page, fill in the form with your details and send it. We shall reply you in few minutes.
Tel: +256787503599/ +256751711730
Email: hire@4x4rentalsuganda.com
Land Cruiser Hard Top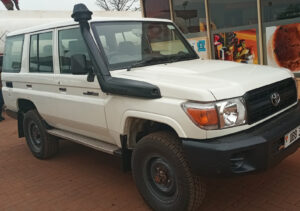 Land Cruiser 70 series can still claim to be the most rugged, most reliable vehicle for handling the harshest conditions and toughest situations which life can throw at it. It is the standard fleet vehicle for many front-line agencies who demand the ultimate in dependability. Customers can trust this model to deliver unprecedented performance. Book now
4×4 Toyota Rav4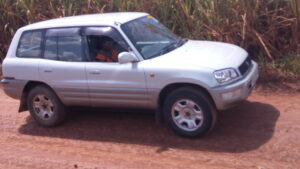 Move in style to explore Tanzania while cruising in the Toyota RAV4 with its styled aluminum wheels, panoramic roof and LED headlights. Be it is with manual or automatic transmission, RAV4 has a powerful 2.0L engine giving it agility in the city, and power on off-road. Price: From USD: 45 Per Day. Book Now
Land Cruiser Prado Tx/TZ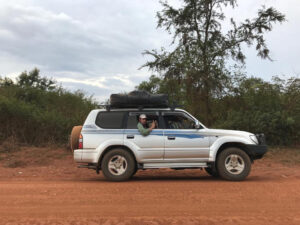 It's a strong and comfortable safari vehicle, stable on the roads with extra power that can makes it overcome even tough terrains, they fit in the category of mid-range when it comes to safari cars for hire. The car is perfect for 2 persons on self -drive or car with driver, and it's suitable for a maximum of 3 persons traveling together. Book now

Safari Land cruiser extended
It has more seating capacity as compared to other Safari Vehicles. This is indeed an African Safari Vehicle with comfort ability on roads and in Game reserves. More so, it has a large space for luggage.
Seating capacity: 7-8
5 doors
Drive train: Four-wheel drive
Transmission 5 speed manual
Pop up roof
Roof rack
Extensive Cargo space
Centralized door lock
CD-player
Base Engine Type: gas
 4×4 safari vans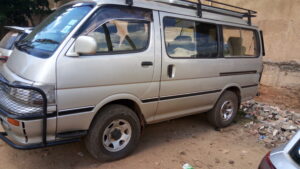 It is one of the largest self-drive rental vehicles for hire in Kenya, Uganda and Rwanda and Tanzania. It transports nine passengers and a driver, therefore a group of more than 5 to 9 people, a safari van is the best choice. Price: $130 Per Day: Book Now
Mini-bus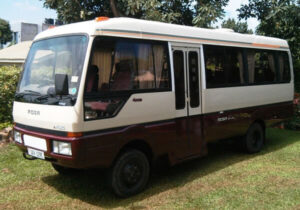 Mini- bus or Mini -coach is a passenger carrying motor vehicle that is designed to carry more people than a multi-purpose vehicle or minivan, but fewer people than a full-size bus. Price: From USD: 250 Per Day. Book now
 4×4 Land cruiser VX/V8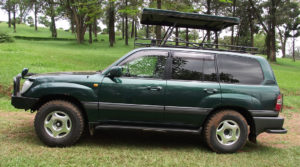 The legendary Land Cruiser V8 has been further refined and reinforced. It ensures robust build and durability as it tackles the most challenging deserts tracks and mountain ranges. With a striking design, luxurious interior and improved capabilities, the Land Cruiser is the ultimate 4×4. Price: From USD: $120 Per Day. Book Now
 4×4 Toyota HiAce /Super custom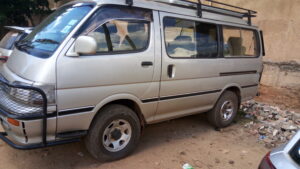 Toyota Hiace Super custom is one of the best safari cars for hire in Kenya and beyond. With a seating capacity of up to 7 people, the Toyota Hiace Super Custom is a comfortable midsize van available for self- drive or with a driver guide. Price: From USD: 70 Per Day Note: Our cars are fully insured and regularly serviced so, feel free to contact us for whichever period of your trip; Long term and short- term period. Book now