MURCHISON FALLS NATIONAL PARK
Murchison Falls National Park is located in North Western, owned and Managed by the Uganda Wildlife Authority.  Book a car from 4×4 Land cruiser from 4×4 rentals Uganda for your next wildlife watching safari in the Savannah park.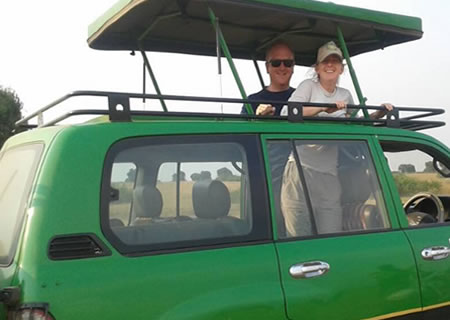 It is a national park in Uganda and managed by the Ugandan Wildlife Authority. It is in north-western Uganda, spreading inland from the shores of Lake Albert, around the Victoria Nile, up to the Karuma Falls. Together with the adjacent 748 square kilometres Bugungu Wildlife Reserve and the 720 square kilometres Karuma Wildlife Reserve, the park forms the Murchison Falls Conservation Area
Murchison Falls national park is Uganda's largest national park. It measures approximately 3,893 square kilometres. The park is bisected by the Victoria Nile from east to west for a distance of about 115 kilometres .The park is the location of the Murchison Falls, where the waters of the Nile flow through a narrow gorge only 7 metres  wide before plunging 43 metres
Wildlife
Murchison falls national park and the adjacent Bugondo Forest Reserve have 76 species of mammals as well as Uganda's largest population of Nile crocodiles. There are 450 known bird species in the park, including the rare shoe-billed stork, dwarf kingfisher, Goliath heron, white-thighed hornbill and great blue turaco.
Some of the animals found in Murchison falls national park include, giraffe, lions, elephants, antelopes, hyenas, leapards, buffaloes, and many more
Accommodation around the park include, Fort Murchison, Paraa safari lodge, Murchison river lodge, Nile safari lodge, Red chilli,etc