QUEEN ELIZABETH NATIONAL PARK
Queen Elizabeth National Park ( famous for tree climbing Lions) is situated in Western Uganda & joins with Kyambura gorge reserve where chimpanzees are found. What you should know about cross border insurance
Queen Elizabeth National Park is in the Western Region of Uganda, The park adjoins Kyambura Game Reserve to the east, which itself adjoins the Kigezi Game Reserve including the Maramagambo Forest and thus the Kibale National Park to the northeast.
The Virunga National Park in the Democratic Republic of the Congo lies across the border to the west. Together, these protected places completely encircle Lake Edward. The Rwenzori Mountains National Park in Uganda lies not far to the northwest.
The park is known for its abundant wildlife, including African elephant, African buffalo, Ugandan kob, hippopotamus, topi, waterbuck, warthog, giant forest hog, Nile crocodile, leopard, spotted hyena, chimpanzee and lion. Overall, the park is home to 95 mammal species and over 600 bird species. The area around Ishasha in Rukungiri District is famous for its tree-climbing lions,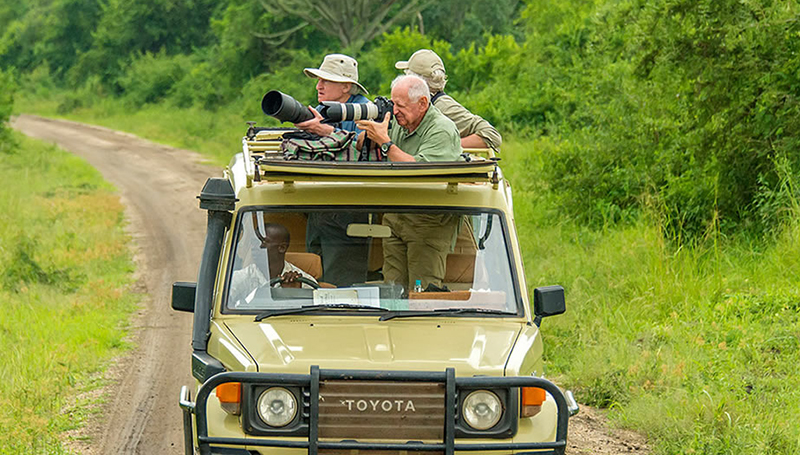 The park is also famous for its volcanic features, including volcanic cones and deep craters, many with crater lakes, such as the Katwe craters, from which salt is extracted.
Popular activities include chimp tracking in Kyambura Gorge, boat cruises, guided game drives including viewing tree climbing lions in the Ishasha sector, night drives and nature walks.
Accommodation around the park include, Mweya safari lodge, Bush lodge, Pumba safari cottages, Katara lodge, etc